Cleaning up on your Investment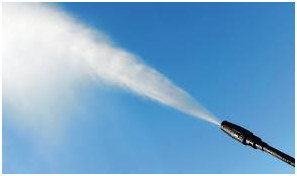 So you have achieved a great result with your project and now have a fantastic new vista to enjoy far into the future. To keep your paving project looking its best now and for years to come, a little maintenance work is required.
CLEANING TIPS
Landscapers in Melbourne and Sydney use bluestone tiles extensively because of their low maintenance requirements and suitability to a range of weather conditions. If you're worried about cleaning your paving, the good news is that the process is straightforward and can be done without high-maintenance equipment or constant effort. Some of the simple steps and tips given below can make all the difference.
Firstly, it's good practice to regularly apply some basic cleaning steps such as sweeping and washing down dirtied areas. One of the benefits of using natural stone pavers such as bluestone, granite, and sandstone pavers are their easy to clean surfaces. However, the prompt removal of any substances or materials that might lead to marking or staining on your paving is always warranted – the adage that prevention is the best cure applies here. So a quick clean up after that weekend barbeque or sweeping up the leaves after an overnight storm before stains can impregnate the paving is the way to go.
In most cases in which marks or stains do occur on your pavers, they can usually be cleaned up easily and without the need for harsh chemical cleaners. Often, basic and inexpensive household cleaners such as detergent, baking soda, bleach or white vinegar are sufficient to achieve desirable results. There are also a number of cleaners on the market that are relatively easy to apply if further cleaning is required.
TAKING EXTRA MEASURES
As with any reasonable investment, it's a good idea to consider some insurance. In the case of your paving project you can achieve this by the application of a quality sealing product such as our dry treat sealers. A sealer is not a "bullet-proof" solution to never seeing a mark or stain again, but is effective insurance against materials penetrating and becoming ingrained in the surface of your paving. Once again, prompt clean-up after use is always the best idea but sealers do slow the process of stains penetrating the surface of your pavers. Sealing can also assist with the prevention of efflorescence (salt staining) &spalling (deterioration to the surface or structure of the paver due to several environmental factors).
Sealers can be applied DIY or arrangements can be made for qualified applicators to seal your project so a warranty will apply.