Common Issues When Mounting Glass Mosaic Pool Tiles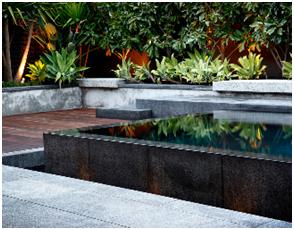 While glass mosaic tiles are ideal for adding extra beauty to Sydney pools and boast benefits such as resistance to chemicals and algae, it can be difficult to get glass pool tiling to adhere to the shell of a pool.
To minimise problems, it's recommended to achieve the maximum possible amount of contact between the back of the tiles and the thin-set adhesive. Australian standards outline that the exposed glue and mesh-free areas of tiles should be a minimum of 80%. Meanwhile, international standards can be stricter, with some recommending 95% coverage.
Unfortunately, this is extremely difficult to achieve with rear mounted systems. Factories often apply too much netting adhesive at the time of sheeting, which can disappear when submerged continually in water. This is due to the adhesive usually being a water soluble PVA, preventing the tiles from bonding into position.
Aqua Mosaic Mounting System
Aqua Mosaictiles feature a special plastic film that is face mounted, guaranteeing 100% back surface coverage. These tiles don't use rear mounted systems, ensuring there's no mesh toprevent the adhesive touching the glass tile. As a result, the adhesive bond won't fail and the tiles will remain strongly adhered.
Other advantages of the Aqua Mosaic face mounting system include:
• The film is easy to remove once the adhesive has bonded
• The film also acts as a form of protection to keep the pool tiling clean
• The clear film ensures the mosaic tiles are visible at all times. If necessary, the plastic can be cut through so an individual tile can be adjusted