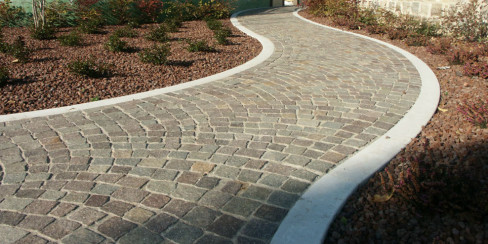 When you have friends over for a meal and you take them out to your paved entertaining area in the backyard, what would you rather take them to? A drab and boring paved area with minimal thought put into the design, or a dynamic and exciting space for entertaining that's full of personality and style? One sure fire way to add a sophisticated yet fresh European influence to your paved area is to lay Italian Porphyry pavers for a stylish and elegant finish. You'll find these pavers right here at Stone Hub.
What is Italian Porphyry?
Stone Hub is proud to stock the Porfido Trentino range, which has been sourced from and manufactured in Italy. Our collection includes cobbles, crazy pave and filetti, each of them adding significant European class to any paved area.
Italian Porphyry is a volcanic rock that contains quartz crystals. It is not only visually appealing, but also boasts superior physical properties, most notably that it is extremely hard wearing, non-slip, and resistant to frost, salt and acid. As it turns out, the more you expose porphyry to natural elements such as rain, snow, frost and sun, the better it performs!
Perfect for Almost Anywhere Around the Home
Our porphyry, from the north of Italy, is one of the hardest wearing landscape paving materials available, making it ideal for indoor and outdoor areas alike. It's just as useable for driveways as it is for high traffic areas like the kitchen. A great commercial product, porphyry is equally at home with its natural colour range in any domestic environment, adding a truly classic European feel to any landscape.
Porfido Trentino Crazy Pave 20-40 mm
Type:     Porphyry
Finish:   Natural cleaved
Size:     Random
Sourced & manufactured in ITALY
Porfido Trentino Cobbles
Type:     Porphyry
Finish:   Natural cleaved
Size:     100x100x40-60 mm
Sourced & manufactured in ITALY
Porfido Trentino Filetti
Type:     Porphyry
Finish:   Natural cleaved
Size: Split sided free length shards 150-300 mm long x 60-100 mm wide x 30-50
Sourced & manufactured in ITALY
Learn More Today
Don't just settle for any one flat, block colour for your paved area. Come to Stone Hub and check out our Italian Porphyry for unique and stylish designs that will make your entertainment area the hottest on the street!