Landscaping can yield a healthy investment return on your property. Experience has shown that with the right design, correct construction, complimentary choice of hardscape and softscape materials, and an appropriate budget commensurate with the property value, the capital return on your landscape can far outweigh any other type of home improvement.
The added bonus to this capital improvement is a lifestyle improvement as your family and guests enjoy an enhanced landscape extension to your home. Where kitchens and bathrooms were once the main focus of home renovating, this attention has shifted to the outdoors, in particular indoor/outdoor integration.
Financial Considerations
It is important to not under or over-capitalise on your landscape project. To avoid under capitalisation, if you don't have enough funds initially, consider staging your project over an extended period of time; this may even involve not just months but years.
Although not a hard and fast rule, to get the maximum return from your landscape requires an investment of approximately 15 to 20% of your property value. Key considerations to achieve a healthy return include a quality design, staged works if budget is an issue, and a focus on spending on main utilised areas of you landscape. It's also recommended to strike a healthy balance between aesthetics and functionality, helping to create a seamless transition from the indoor to outdoor space.
Last but not least, remember that lifestyle improvement is just as important too!
 Case Study – Mornington Residence
The owners of this beachside property on Melbourne's Mornington Peninsula had a quality-built contemporary home but the landscape was plain, lifeless, and not functional.
The front yard was transformed with the focus mainly on aesthetics to give the house street appeal, including clever use of architectural mass planting such as Sedum, Festuca Glauca, Senecio Chalk Sticks and Mondo grass. Bluestone pavers, custom made for the project, created an inviting walk to the front entrance. The front yard also displayed well placed feature plants such as Xanthorrhoea Australis, Sago palms, Agave and Japanese Maple, together with custom designed corten steel curved raised planters and a corten steel cantilevered letter box.
Front Yard before Landscaping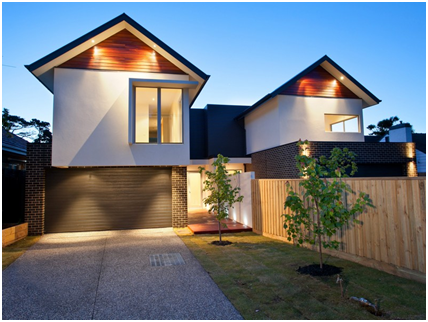 Landscaped Front Yard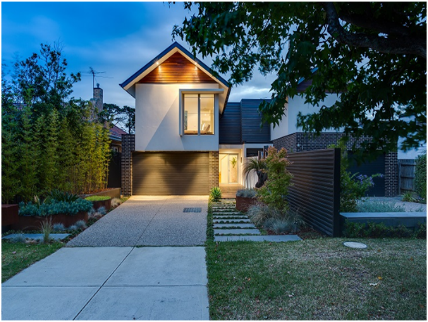 The backyard utilises a healthy balance of form and function, creating a seamless transition from indoors to outdoors. The backyard includes a large raised spa with feature glass wall, glass mosaics, Honed Bluestone pool coping, stone cladding, and outdoor seating around the fire pit sitting on a floating bluestone plinth. This beachside sanctuary is privately screened with both Bambusa Textilis Gracilis balanced with rendered walls and bluestone clad walls which also hide and reduce the sound of pool equipment. There is also a feature Xanthorrhoea Australis and mass planting of Festuca Glauca, Senecio Chalksticks and Lomandra in the circular cut out in the middle of the deck.
Back Yard before Landscaping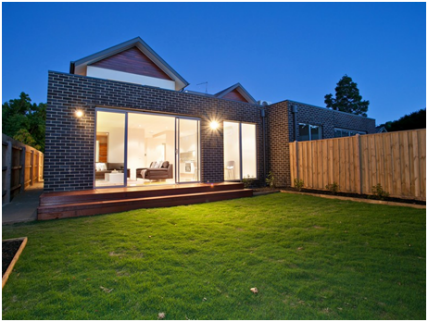 Landscaped Back Yard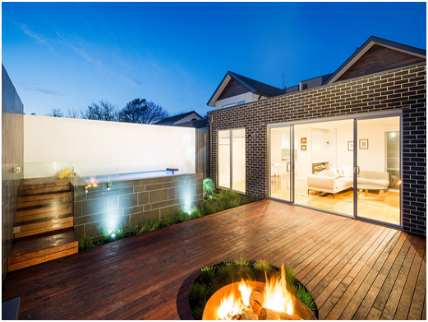 Landscaped Back Yard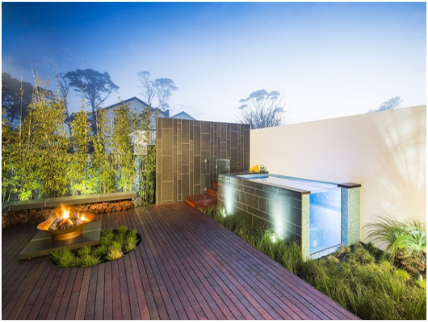 The end result was not only a lifestyle enhancement for the occupants, but also later on when the property was sold it was estimated that this stunning landscape returned an additional 20% above the cost of the project !